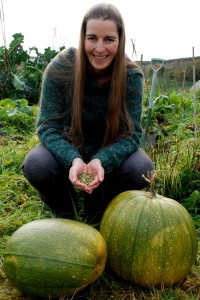 I've always been a nature and animal lover. My love of gardening only really took off once I had my own space to garden for myself and once I had one I liked nothing more than being outdoors getting my hands dirty whilst creating beauty and bounty (somehow the muckier I get in the garden the happier I seem to be). Being in the garden is the place where whole days can fly by in a blink.
I have a background in holistic health and energy work having trained in energy healing modalities, the fabulous EFT tapping technique, aromatherapy and flower essences amongst others. These days most of my work is done via skype and phone (energy work for pets and personal development coaching for people). With no commute I have plenty of time to play outdoors and revel in the beauty of nature.
Prior to that I trained in Environmental Sciences and even got a masters in Protected Landscape Management but I got distracted by the worlds of folk music and healing and so became self employed instead of working in the Environmental field.
About the garden.
I'm based in County Leitrim in Ireland and my land amounts to a little under 2.5 acres in a long thin strip, including the site for the house and it backs onto a lovely stream.

Our climate is a cool maritime climate, so we don't get very cold winters or hot summers.
We do get a lot of rain, which is probably why Ireland is so green and lush.
Myself and my partner at the time (we've recently split up but are still good friends and I'll be sharing the veggies from the garden with him this year) bought that land in 2009 and built the house, bar foundations and external walls, ourselves. You can follow these early days of the land at my old blog here at www.adventuresinafield.blogpspot.com
The main areas of the garden are currently the kitchen garden (known as the joy garden) and the polytunnel garden. Here's an old map of the garden layout.
Meet the garden team
I have a super set of garden supervisors who love to keep me on track.
The newest arrival is 'Baby' the kitten, who came last June

Then we have Elvie the Tabby
Then Mr Leo (head honcho)
And not ever forgetting, Miss Sally Bongo, the best dog ever (who now resides with me part time)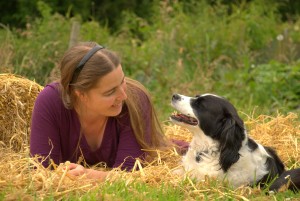 And last, but by no means least … the ladies (my khaki campbell duck Gemma and two newer Chiltern Ducks, all good egg layers).